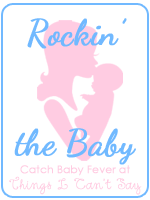 Linking up with
Shell
again for the
Rockin the baby
, it's as simple as posting your favourite/s pictures of you and your child.
So here are my favourites. I can't decide for just one photo Shell, believe me I could post mayber around ten but I'm a bit shy. Ha Ha
So if you want to join the fun, visit
Shell's
blog and link up!
My tababski at 6 months
My little bubba barely 2 days old.
Wow, looking back at these photos I can't believe my little one is almost 11 months! She's just a month shy for her 1st birthday. Where did the time goes? Wasn't I just pregnant?