I'm linking up with Ashley of
adventures of newlyweds
for her friday's letters link up.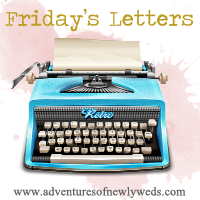 here we go...
Dear Indigo,
Are you sure you're just 23 months old? Because the way I see these photos you look like 23 years old. 23 months going 23 years old?!
Dear best friend,
This photo cracks me up yesterday. Are you really exercising? I can't believe this photo. Now, I'm curious on what you did after. Did you crawl your way to bed after and take a long nap? Haha
Dear Cotton on kids,
thank you for your crazy sale! I mean this dress for S $5?! Seriously? Trust me the moment I saw this on the rack I had my hand grabbing it. Wait 'till you see my little girl rocking this dress.
Dear little girl,
let's make this last month before you turn two a fun one, shall we? With minimum melt down, drama, and tantrums.
I know you've been referring your purchases there in FL as steal because of their crazy prices. I got this chambray skirt yesterday at Cotton On for $2 and that's singapore dollar you know. With its price is it a steal in your book or charity? Ha! Ha! Ha!
Happy Friday everyone!